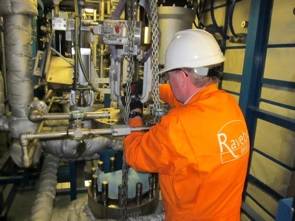 Ravebo is since the sixties the authorized Sales and Service agents for the Japanese based valve and fluid control systems manufacturer, Nakakita Seisakusho Ltd. The company offers several type of products which include: Automatic control valves, (which also include auto actuated valves), remote control valves, safety valves, cylinder valves, servo actuated control valves, air purge automatic regulatory actuators, valves for nuclear plants, superheated steam pressure reducers, other special control valves, controlling equipment, butterfly valves (manual and remote control butterfly valves), and low-temperature use butterfly valves for cargo handling, ballast remote controllers, remote water level indication.
Automatic temperature and pressure indicating controllers
Nakakita is also manufacturing automatic temperature and pressure indicating controllers. For example the popular model types NSP732 and the NST732. These controllers can be applied to all possible fields of process control such as, pressure, differential pressure, temperature, liquid level, flow rate, viscosity etc. when used in combination with diaphragm control valves at the operating end. These pneumatic controllers hardly need maintenance and are long lasting. Along with the soaring fuel prices in the recent years, measures against degrading fuel used for ships have been drawing world's attention. Nakakita addressed this situation by developing the Visco Transmitter unit as a measure against degrading fuel. The NS777C series capillary type Visco Transmitter has proven performance over the past 20 years and has gone through numerous upgrades and improvements such as elimination of the pulsating pressure noise generated by the injection pump of diesel engines while employing a double gear pump system.
Are you facing any challenges?
Get in touch with us