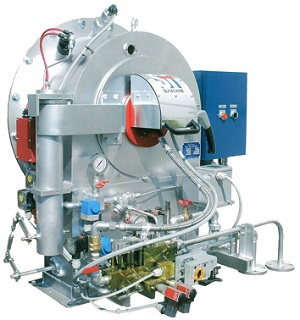 Sunflame is recognized worldwide as being the World leading manufacturer of the rotary cup burner. Sunflame creates boiler burners and incinerators for marine vessels, which are now being used throughout the world.
Sales service company
"Osaka-Sunflame KK" was established in 1968 as an after sales service company in Kyoto, Japan. In 1980, Sunflame pioneered the SSR and R type rotary cup burners. Since then Sunflame has been at the forefront in the manufacturing of rotary cup burners for marine boiler plants.
Rotary cup burner
Since then, Sunflame have introduced the SDR series to the market, the main product of Sunflame today. The rotary cup burner of Sunflame distinguishes itself from other brands by simplified design and ease of operation and maintenance. The advantage of the Sunflame rotary cup burner is that it doesn't need special modifications for using MGO as it is able to scope with wide ranges of viscosity (700cst-1.5cst). Also the existing fuel oil pump can be used for HFO and MGO.
Waste oil
Sunflames rotary cup burner is not only utilized in the boiler plant but also in the waste oil incinerator, which can safely cope with the high viscosity of waste oil. The waste oil incinerator from Sunflame disposes of the sludge oil without the need to burn D.O. Having originated as an after sales service company, Sunflame have always listened to their customers and met their demands. This perspective has never changed which is why all Sunflame products reflect the requirements of their customers. Ravebo is representing Sunflame in the Northern part of Europe and we have well trained service engineers for the repair on the rotary cup burner installations which are fitted on a variety of different brands of boilers.