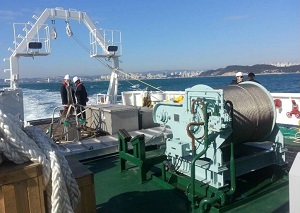 It was November 1st, 1990 when Sambu Engineering (Sambu Ind. Co. Ltd.) was found in Busan, Korea by its President Mr. Woo-Choel Shin. Mr. Shin has always been very fascinated of the many applications for compressed air and the "power" is haves. His initial ideas where developing an own-designed hosting air winch, driven by compressed air. And so he did. It was only one year later when expanded his ideas by designing and developing pneumatic powered motors to substitute the generally-used electric motors.
Expanding
During the 90's Sambu could greatly expand their range of products, with building further on the winches (pneumatic, electric and hydraulic-driven) and expanding to windlass & mooring winches. What has been and still is big importance to Sambu, is their in-house designing, developing and manufacturing. This is one of their key-points so ensure the quality and innovation that Sambu has been representing since their founding.
Are you facing any challenges?
Get in touch with us
Equipment
Early 2000, Sambu Engineering has built up a solid foundation with their winches and motors. Besides continuous development and additions of these, they started focussing on close connected alternative equipment such as steering gear, provision cranes / davits, rope reels, oceangraphic winches, rudders and hydraulic watertight sliding doors. In order to realise this, the company moved to the new industrial complex in Gimhae, Korea. Together with this new location, Sambu obtained the DNV ISO:9001 certification. In 2008 Sambu was registered at the National Oilwell Varco and supplied davits and winches for offshore projects. In 2011 the second factory was opened in Busan, Korea. The activities were split between R&D, manufacturing and machinering in Busan while assembly and testing is done in Gimhae. Certifications for WSP by DN V, BV, ABS and LR were obtained. In 2013 Sambu Engineering became registered at the Hyundai Mipo Dockyard.